MGO's C3 Engineered Wall System™ combines C3 Fireboard with an insulating core to create an advanced structurally insulated panel or "SIP".
The C3 system provides improved thermal & acoustical insulation, superior fire rating, water resistance, and greater durability for exterior walls, foundations, roofs, and floors. Pre-fabricated, custom-designed C3 Systems provide higher quality, cost-effective solutions which reduce construction waste and speed up on-site construction time.
Strong connections, for life.
MGO's construction experts and engineers have collaborated to design connecting systems for our C3 Panels that provide superior efficiency and structural strength.
Need a custom solution? Our extensive in-house experience and expertise means we can work with you to develop a building solution that fits your unique requirements.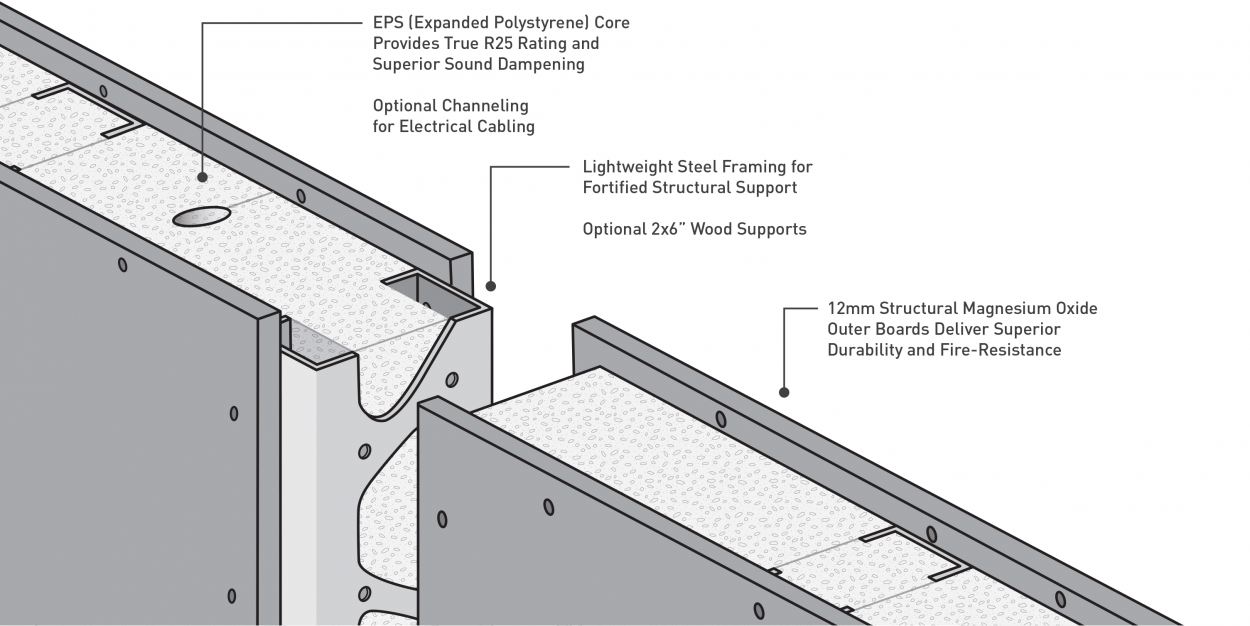 MGO Systems Ltd. does not directly offer or supply engineering services. All engineering services are provided through a qualified and legally authorized third-party company and individuals.
Frequently Asked Questions
Are C3 Panels suitable for flooding conditions?

No, the panels should not be used where flooding would cause them to be saturated with water. While the C3 and EPS components are unaffected by water, it's always best to protect the panels from inclement weather during construction and to seal them well so that they do not take on moisture and have to be dried out.
What are C3 Panels made of?

The C3 Panels are a "sandwich" construction of a proprietary Cast Cement Composite (C3) board glued under pressure to a core of expanded polystyrene (EPS) insulation, and with studs, plates, spines, and cleats selected for optimum price-to-performance characteristics. All C3 Panels are engineered to be as cost-efficient as is reasonable for the project.
Will they burn?

MGO's C3 Panels are classified as "Noncombustible", and the face sheets produce Zero Smoke and Zero Flame in the ASTM E-84 Fire Tunnel test. Since nothing is truly fire-proof, given enough time and high enough temperatures, the foam cores will eventually evaporate and the panel will fail, but only after lasting longer than the time for which they are listed.
Can you explain what a C3 Engineered Wall System is?

The C3 Engineered Wall System™ is a proprietary method of construction, using precisely-manufactured panels that are rapidly joined together in the field. Each structural panel is comprised of ½" thick Cast Cement Composite (C3) sheets, adhered under pressure to cores of expanded polystyrene (EPS), and strengthened with internal supports. These panels are typically 6 ½" thick for exterior walls and 4' wide by 8', 9', or 10' tall as single units. They also may be "ganged" together in the factory and shipped to the job site in sizes as large as can be trucked, which is typically 8' wide x 40' long. With the proper design and engineering, a building made of C3 panels will be the most efficient building available today.